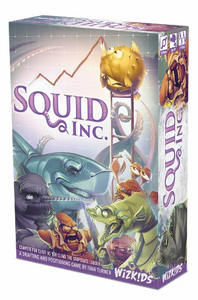 WizKids
Squid Inc
Regular price
$64.95
$64.95
Unit price
per
Tax included.
Shipping
calculated at checkout.
Description:
In Squid Inc., players compete for influence in the high-stakes underwater business world, where power shifts with the tides. Recruit underwater creatures to your side, and lead them up the (metaphorical) food chain, earning more influence the higher they go.
You'll recruit distinguished business creatures from angler fish to hammerhead sharks, each with a different influence value, and a unique ability. Then, you'll place them at the bottom of the corporate ladder, trying to outmanoeuvre your opponents' creatures and earn them promotions. If there's no room at the next level, you'll just have to knock somebody back down! To come out on top, you'll have to use your creatures' strengths, and prey on their creatures' weaknesses.
Players:
2-4

Time: 
60 min

Age: 
14+

Complexity:



Theme(s):
Animals, Underwater


Mechanism(s):
Area Majority / Influence, Card Drafting, King of the Hill, Slide/Push, Take That, Tile Placement

---