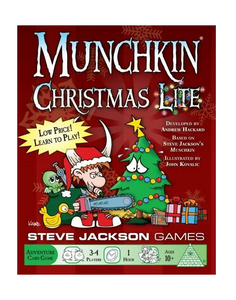 Steve Jackson Games
Munchkin Christmas Lite
Regular price
$16.95
Sale price
$17.99
Unit price
per
Tax included.
Shipping
calculated at checkout.
Description:
Kick down the door! Defeat the monster! Take the treasure!
Munchkin has been a gaming phenomenon for fifteen years, and now we're giving you a great introduction to the game. Munchkin Christmas Lite is a standalone game that can also be used as an expansion for existing Munchkin games!
Players:
3-4

Time: 
60 min

Age: 
10+

Complexity:
Light

Theme(s):
Card Game, Fantasy, Fighting, Humour


Mechanism(s):
Card Drafting, Dice Rolling, Take That, Variable Player Powers

---